Prepare for a School Year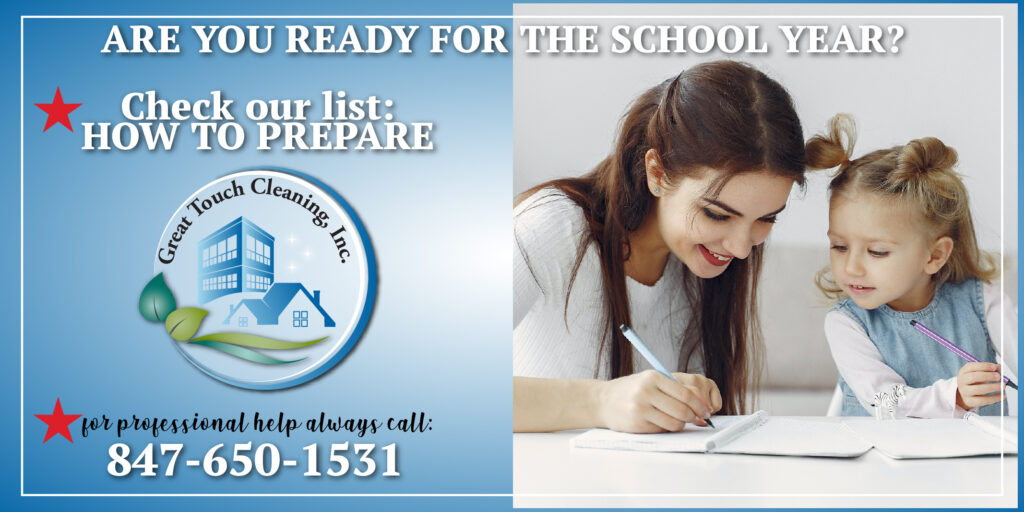 Watching for over two decades my customers' habits I know that at the end of summer those who have children often do a massive deep cleaning of their homes. Cleaning with moving furniture, shampooing carpets, and organizing closets.
I understand why. Somehow, with kids at home, the home gets dirtier. If you are a parent, don't just take my word for it, check for yourself:
Floors – they were swept, even mopped often. But still, they look like they need serious scrubbing.
Baseboards– I'm still not sure how these get so dirty. In addition to the regular dust, now there are some marker smears, food stains, and maybe even little mud splashes. Forget just dusting, they need to be scrubbed too.
Walls – more food stains and lots of handprints.
Carpeting – more mud and some spills. A professional carpet cleaner may be advised.
Furniture legs– How often do you look on your table legs? Food and mud stains galore. Another area in a need of scrubbing.
Kitchen – there is something fishy going on in the fridge. Maybe remnants of the last camping trip, maybe something else – but everything needs to get a good sorting out, and the shelves and drawers some washing.

After all, we need to make room for the new lunchboxes!
Back-to-school season is a good time to get everything back in order. The kids will have a schedule again and things need to be organized.
Entering a new grade is a new opportunity to have a clean slate and a good aim at getting better. Kids always feel that way.  A clean and well-organized home will not only reinforce these intentions but will also help them to last.
Of course, just like every year before, my ladies at Great Touch Cleaning, Inc. are ready to help with the washing and scrubbing. But I also wanted to share a few organizing back-to-school tips and tricks that will go beyond just the cleaning.
GETTING READY FOR THE SCHOOL YEAR
Decide where to involve the kids.
They will certainly be excited to be part of the back-to-school shopping, and they should be involved in organizing their rooms. As for the deep around the house cleaning time – it depends. For the teens – it could be a part of their chores, with good performance rewarded by some extras when shopping. As for the little ones –you may choose to schedule a playdate somewhere else for them.  So, decide, and plan accordingly.
Start with cleaning kids' shelves, desks, drawers, and closets.
It is important to do it before the back-to-school shopping. After you get rid of all that is already useless and take inventory of what is left, you will really know what you need to buy. It will save time and money.
Schedule the deep cleaning.
No matter, if you hire Great Touch Cleaning, Inc., or do the heavy lifting yourself – it will take time. By scheduling it you will avoid procrastination or skipping steps altogether. Our kids hear what we say but do what we do. Showing them planning, progress and completion will positively influence their own behavior.
With a few empty hangers in the closets and clean desks and shelves – it's time to get new outfits and supplies. Enjoy! But after you're done, make sure that the new stuff will find its permanent spots on the desks and shelves.
With the majority of the learning nowadays including computers this could be also a good time to check the desktops kids will be using. All the vacation photos and projects are certainly precious, but now there needs to be room and easy access to the school folders and well-organized bookmarks in their taskbar.
Getting everything cleaned and organized at the start will help with the next and final step:
Keep it organized and clean.
Here's the thing: when you have it all well cleaned and organized it is possible to keep it that way for some time. Here are a couple of tricks:
Establish a schedule and a list of chores for everyone
A little cleaning and tidying up daily goes a long way. With new routines and projects starting at school, it would feel natural to your youngsters to expand them by a few additional tasks at home.
Decorate
Plan on areas to display new interests or trophies, that are certain to emerge as the new school year starts. It will make the kids proud of themselves and

the home. Even if some of the décors may not be to your taste or what is trending on Pinterest, kids will be more interested in keeping the whole place nice when their work is showcased around.
I believe it makes a huge difference for everyone when you start new routines from a clean, well-organized home. I hope that my tips will help.
Good luck and my best wishes for the New School Year!