Organizing Holiday Decorations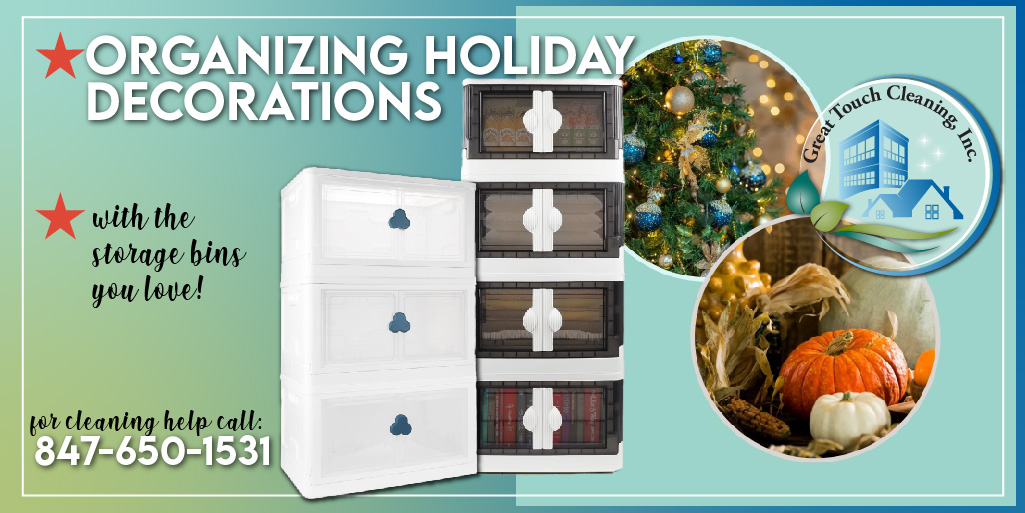 Time spent selecting and organizing holiday decorations is the key to a future stress-free celebration. Don't let clutter steal your energy and joy! We prepared for you some organizing tips and recommendations for using elegant, stackable, and foldable storage bins in the process.
Halloween, Thanksgiving, Christmas, Easter … over time we collect items to adorn each holiday. Some of them hold precious memories. After a few years, even the thought of going through them all may be overwhelming. Therefore, the time spent on selecting and organizing them is not wasted:  it's a key to future stress-free holidays!
To make the annual holiday decorating enjoyable and protect your treasures, you need some planning. Start with discovering all you have:
Pile your collection of seasonal items out and sort by holiday. Don't forget to pull them all: not only the ornaments but also the special dishes, tableware, linens, lights, and wall décor. Even the large items to decorate your yard. Search your home for EVERY decoration you can find. Hidden in the garage, tucked away on upper closet shelves, or in the back of kitchen cabinets.
2. Put All Alike Items Together
You may be surprised by finding duplicates! Get rid of them. While some could become a "White Elephants" item this year, the rest can go to your local thrift store. Discard all worn and broken items, and items you don't like anymore.
If you have many items, you may subsequently sort them by category. For example: ornaments, lights, tableware, family heirlooms, and outdoor items.
With all of the items out you can tell how many and what size of containers you would need to pack them away. Clear, plastic storage bins are the best!
We just found a couple of new and exquisite storage bin options on the market. They are:
MULTIFUNCTIONAL:
They are great for your garage or closet. They are so elegant, that you can place them as additional cabinets in the living area.  They work well as moving boxes, dorm furniture, or a temporary storage solution during a home renovation.
STACKABLE:
They fit and lock one on top of the other to form nice multilevel storage cabinets.
FOLDABLE:
When not in use, they can be collapsed, folded, and stored away.
ACCESSIBLE THROUGH TOP AND FRONT:
They can be loaded, just like all traditional bins, through the top lids. Once packed and stocked up they can also be accessed through its front door.
EASY TO MOVE:
They have wheels on the bottom. and handles on the sides. 
Both containers are available in multiple sizes. Click on the images above to enter the store, check the parameters, and choose what will suit your needs best.
At this point, we still need to disclose that these Amazon links are our affiliate links. This means that at no cost to you, Great Touch Cleaning Inc. may be earning a little commission if you use these links to place an order. This will not affect your price.  As a matter of fact, because we update our links often we also look out for the best deals.  AND, we also don't recommend what we would not use ourselves.
These bins are ready to be used again and again. Come the time for decorating you'll have everything in one place, and your next Holidays will be a breeze!